THOSE  WHO LIVE IN GLASS HOUSES SHOULD NOT THROW STONES!
http://red.nv.gov/uploadedFiles/rednvgov/Content/Meetings/CIC/2013/minutesDEC34.pdf
FORMER QUAIL SUMMIT BOARD PRESIDENT TERI ANDERSEN SUED  PAUL HAZELL FOR DEFAMATION REGARDING SOME OF THE CONTENT ON THIS WEBSITE AND LOST IN ENTIRETY! 
THIS WEBSITE IS DEDICATED TO  exposing HOA HARASSMENT,  SELECTIVE ENFORCEMENT & RETALIATORY ACTS, and other MALFEASANCE FROM BOARD MEMBERS, MGMT COMPANIES and their PREDATORY ATTORNEYS PAST & PRESENT!
Decisions affecting the community are the ultimate responsibility of the board, and board members SHOULD be held accountable for these decisions. While the position is voluntary, board members should take their fiduciary responsibility to the association and its members seriously.
All Quail Summit board members have a Fiduciary Duty to act in the best interests of the association. The fiduciary duty is the highest duty of care and loyalty recognized by law. It is the same duty owed by a doctor to a patient! and an attorney to a client.
The fiduciary duty requires Quail Summit Directors  to act with undivided loyalty; to act in good faith; to deal fairly; and to put the best interest of the association and the members before their own personal interests. A board member may not place his own interests ahead of the association or the membership.
Quail Summit board members should not become power hungry or otherwise harass owners, which is exactly how many Quail Summit Board of Directors have acted towards me! I have created this website as a Public Concern to expose my experiences with my own HOA so that others may think hard before moving into a community  that has an HOA.
THE QUAIL SUMMIT PROPERTY OWNERS ASSOCIATION WAS ADMONISHED BY THE NEVADA REAL ESTATE DIVISION AND WAS ISSUED AN LOI. 
THE QUAIL SUMMIT BOARD DIVERTED FUNDS FROM REQUIRED RESERVES TO FUND OPERATING COSTS TO PAY ATTORNEY FEES RELATING TO THIS WEBSITE!
THIS RESULTED IN THE ASSOCIATION BEING INSOLVENT!
---
FORMER QUAIL SUMMIT PRESIDENT TERI ANDERSEN DENIED THIS AT A BOARD MEETING THAT TOOK PLACE IN HER HOME.
THE BOARD SENT OUT A NEWSLETTER STATING 
'
THIS IS A COMPLETE FALSEHOOD!
Excerpt from WHAT JUDGE SCOTTI RULED
FORMER FCCMI EMPLOYEE MARY ANN WATTS PLEADS GUILTY!
Mary Ann Watts, 64, pleaded guilty before U.S. District Judge James C. Mahan in the District of Nevada in connection with the scheme to defraud HOAs in the Las Vegas area. Watts admitted that from approximately the spring of 2006 until February 2009, as an employee or operator of property management companies in Las Vegas, she participated in a scheme to control various HOA boards of directors.  According to plea documents, co-conspirators employed deceitful tactics in their attempts to win the board elections submitting fake or forged ballots.  According to plea documents,   Watts admitted that she employed co-conspirators and failed to disclose their conflict of interest to the HOA, in violation of her Fiduciary Duties.
According to court documents, once elected, the co-conspirator board members would meet with other co-conspirators to manipulate board votes, including the selection of property managers, contractors and general counsel for the HOA and attorneys to represent the HOA.  The co-conspirators created and submitted fake bids for "competitors" to make the process appear to be legitimate while ensuring co-conspirators were awarded contracts.
http://www.justice.gov/opa/pr/2011/October/11-crm-1394.html
From the moment I moved into Quail Summit I have been inundated with petty violation letters, threats, intimidation and harassment from both board members and management companies.  I 

have also  been slandered, libeled, had several cars keyed along with animal feces and eggs thrown at my house. 

Additionally, I have been the victim of lewd acts, verbal abuse and threats from my former neighbor Jerry Babic

who was also a board member when these heinous acts were perpetrated at me.  Babic violated his Fiduciary Duty to me and the community with his egregious, outrageous, offensive, and disgusting adolescent behavior.

My "Constitutional Rights" have been VIOLATED!
The wise person fashions their speech with their thought, sifting it as grain is sifted through a sieve.
Some HOA Board Members purposely gain a position of power; in an attempt to compensate for their own deep rooted psychosis and will attempt to strike down the rights of others, in the name of grandiosity and EVIL maniacal gratification.  Nothing destroys authority more than the unequal and untimely interchange of power stretched too far and relaxed too much.
"Being a Board Member can give one a high like a drug. From a neurological point of view you have: A board member who get excited, an increase in dopamine before the meeting>they have the same excitement during the meeting>post meeting they stand around and talk about the meeting, more excitement>they go home and crash, a depletion of their dopamine>they want to feel good again>they drive around the neighborhood looking for violations so they can harass homeowners>this leads to an increase in their dopamine levels which leads to pleasure."….Dr. Gary Solomon
http://www.hoasyndrome.com/      http://www.hoacorruption.com
The Quail Summit Property Owners Association was justifiably sued  by Paul Hazell for their egregious, capricious  and offensive actions  and were forced to pay a large out of court settlement!
Read about it here  Summary-Judgment
The only person who told the truth under oath from Quail Summit was Cheryl Miller!!!
she was courteous, professional and testified honestly and wished Hazell good luck.
For that  Hazell thanks her!
Too bad that can't  be said about the rest of the people who gave testimony in the Lawsuit that Hazell prevailed against both the Meeks and the Quail Summit Board of Directors for their egregious and capricious actions!
The following were taken from depositions from Quail Summit representatives
Cheryl Miller, a member of the ARC, inspected the structures after the arbitration and during the litigation between the Meeks and Plaintiffs. Also at the inspection were Margaret Sciara (Board and ARC member), Diane Wright (ARC member), and Pam Ghertner (then Board President).'8 Ms, Miller thought the structures were "ugly" and "atrocious." And she questioned why no one had noticed the structures on the "monthly walk-throughs" since they were visible from the street."
Ms. Miller also testified that her neighbor was notified when she made changes to her landscaping, but yet Plaintiffs were not notified of the Meeks's application.
Ms. Miller was not asked to sign the approval.
Suzanne Moon (ARC member) and Marilyn Cunningham (ARC member) signed the approval even though they did not conduct a site inspection.
The third signature is from Ms. Sciarra who testified that the improvements "didn't seem to offend anybody on the ARC committee."
This directly contradicts what Ms. Miller said she told Ms. Sciarra at the inspection.
Ms. Moon says she approved the structures despite the pending conflict and neighbor's objections to be "neighborly."
I wonder if Moon would have approved them if they were next to her house?
Ms. Sciarra admits that she did not consider the effect of noise from children playing on the in-ground trampoline immediately adjacent to Plaintiffs' property.
She admits approval of the basketball hoop was in violation of the Association's rules.
FCCMI & The Quail Summit Board in 2013  refused to provide Hazell a redacted "VIOLATIONS LIST" that they are legally entitled to unders NRS 116!
Why is that?
What were they trying to hide?
Could it be their continuing Selective Enforcment policies?
Volunteer Quail board members are accountable to the association itself, as well as to the owners within the community!
 "PREDATOR"
"One that victimizes, plunders, or destroys, especially for one's own gain."
BOARD MEMBER VIOLATIONS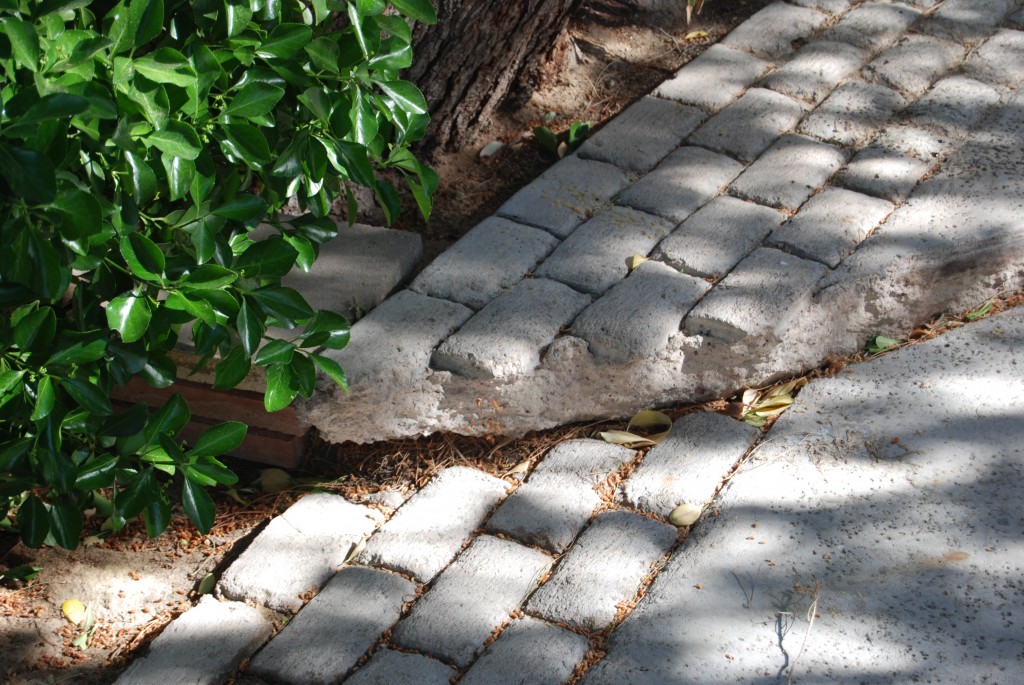 THIS IS CALLED SELECTIVE ENFORCEMENT AND IT IS ILLEGAL!
Andersen removed this eyesore  of a tree in 2013 after this website was published!
Why were My letters and pleas to FCCMI and the Board  about Andersen's violations overlooked for years?
Jack Martinelli was given a violation for his wall separating 
Martinelli was so enraged from this violation, it prompted him to write a letter promising to "pay them a visit to see what their problem is"
Martinelli was under the impression for whatever reason? that Veronica Chew was responsible for this violation! 
However, this violation was cited long before Chew was elected to the Board in January 2010!
Teri Andersen and the rest of the Quail Summit Board INTENTIONALLY refused to vindicate Chew and never informed  Martinelli that Chew was not responsible for his violation! 
Chew felt threatened by this letter of "pay a visit to see what their problem is" and called the Henderson PD to report it. 
Instead of vindicating Chew, former Quail Summit President Mike Meatovich ILLEGALLY FORGAVE THE MARTINELLI VIOLATION WITHOUT BOARD APPROVAL and foolishly committed libel against Paul Hazell when he sent an email to board members falsely accusing Hazell of "threatening Martinelli's wife."  
Meatovich INTENTIONALLY refused to let Martinelli know that Chew was not responsible for his violation!  This is malicious, RETALIATORY, the intentional infliction of emotional duress, harassment, and downright evil!
Meatovich stated "Martinelli is entitled to his opinion and we should hold no malice towards him for his attacks."
This is criminal!  A Board President is acknowledging the FRIVOLOUS attacks but refused to vindicate a fellow board member!  What was his real motives and agenda here? RETALIATION? 
Meatovich is on record of ACUSSING HAZELL OF BEING LITIGIOUS and this is not the first of many attacks against Hazell from Meatovich.
During his tenure as President, Meatovich  was often a "Bully"  to certain homeowners whom he specifically targeted! Including Hazell!

Veronica Chew  felt threatened that "bodily harm may occur to her" from Martinelli's threats AND THE BOARD DID NOTHING TO PROTECT HER!
THESE ACTIONS ARE EGREGIOUS, OUTRAGEOUS AND RETALIATORY!!
EXCERPT FROM JUDGE SCTOTTI RULING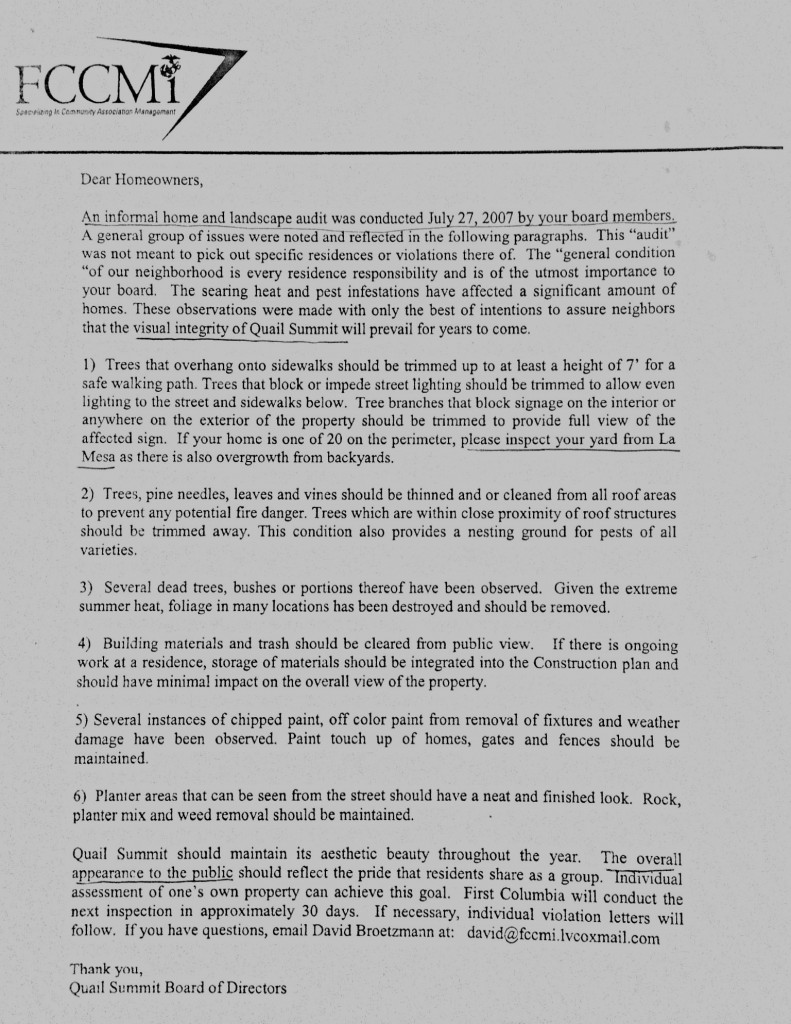 The following letter was sent to the Hazell's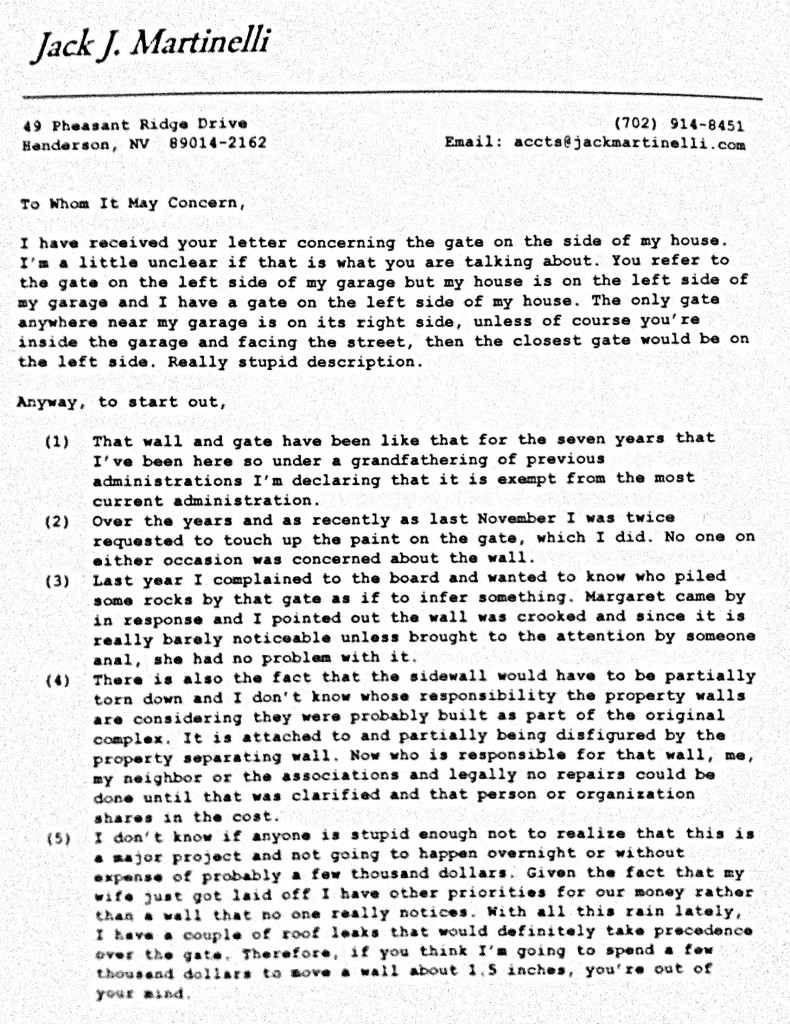 The only logical thoughts in Martinelli's rambling diatribe is his reference to former QUAIL SUMMIT HOA PRESIDENT CHATWIN AND HIS  ILLEGAL BASKETBALL HOOPS!   Hazell inquired numerous times about Chatwin's illegal basketball hoops at board meetings and with certified letters.  However, Hazell's inquiries were met with laughter and verbal  attacks from Chatwin. 
 Hazell was justifiably concerned about a change in policy and enforcement from a letter that that was signed by John Chatwin (HOA President in 2005) and Pam Ghertner on 12-22-2005.  This CHANGE IN POLICY addressed among other things, basketball hoops and satellite dishes within Quail Summit boundaries. 
Do you think it is fair for board members to target others with fines and other thuggery when their own homes are in violation?
IT IS ILLEGAL!
 Jack Martinelli was ordered to remove his "sport court" on the side of his house, yet Chatwin has two illegal hoops and a satellite dish clearly visible in front of his house!
The Buendias were also ordered to remove their portable basketball hoop from their driveway and street!
Even more egregious and self serving was the board giving a "variance" to the Meeks for their illegal basketball hoops in 2007!
THIS WAS  A PATHETIC ATTEMPT TO COVER UP THEIR GROSS MALFEASANCE AFTER  THEY WERE JUSTIFIABLY SUED BY HAZELL!
JOHN CHATWIN AND PAM GHERTNER AND THE REST OF THE QUAIL SUMMIT BOARD REFUSED TO ENFORCE THE CC&Rs and RULES & REGULATIONS WITHOUT PREJUDICE AND THEIR OWN PERSONAL AGENDAS IN DEALING WITH THE MEEKS ILLEGAL STRUCTURES.  HOWEVER, THE MEEK'S ILLEGAL STRUCTURES WERE LEGALLY ORDERED REMOVED!
 Chatwin's actions as Quail Summit President were clearly self serving for him and his friends but UNFORTUNATELY FOR THE COMMUNITY were egregious, capricious and hypocritically ARROGANT AND is indicative of his true character when he said to Hazell in 2006, "if you don't like it, SUE ME!"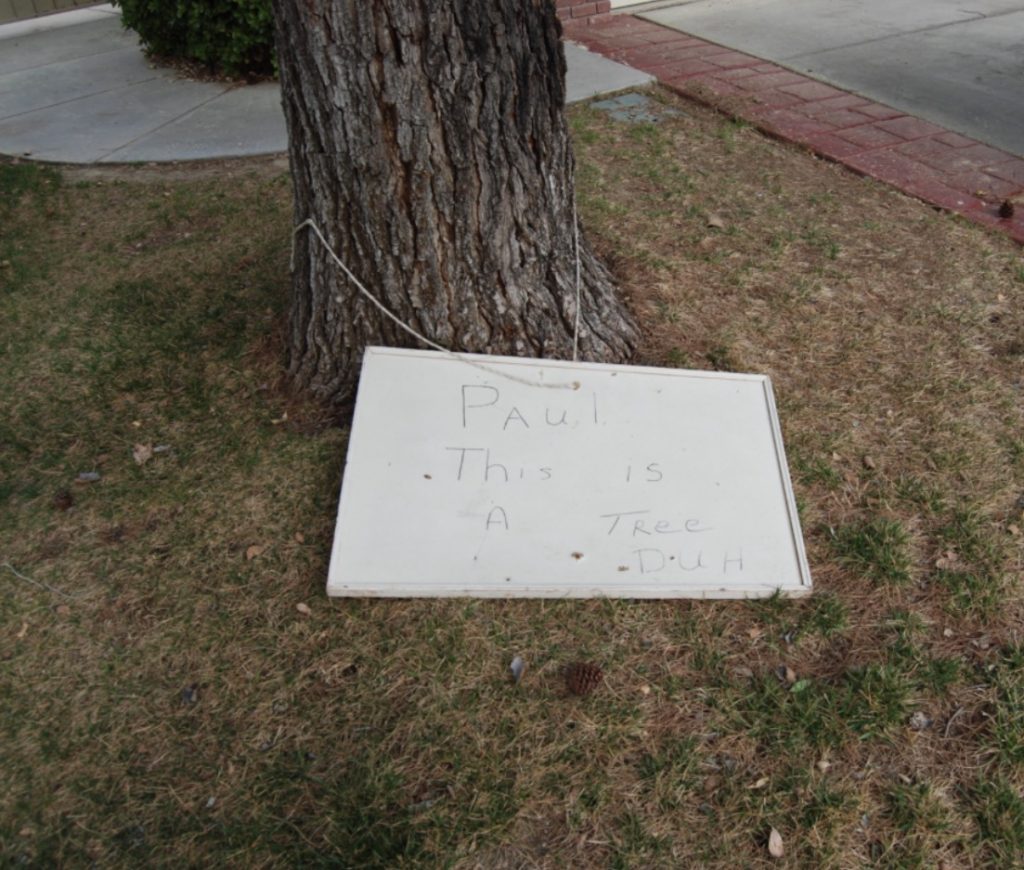 THIS SIGN WAS PLACED ON CHATWIN'S LAWN IN RESPONSE TO MY LITIGATION FOR HIS 'SELECTIVE ENFORCEMENT' POLICIES 
 SEVERAL  RESIDENTS WERE FORCED TO REMOVE THEIR PORTABLE BASKETBALL HOOPS BUT CHATWIN GAVE HIMSELF AND HIS BUDDIES  A "FREE PASS"
CLEARLY SELECTIVE ENFORCEMENT
Pam Ghertner had no problem going after her neighbors "jungle gym colors" and the height of the rear wall with another  neighbor but violated her Fiduciary Duty to the Hazells and the rest of the community in dealing with the Meek's numerous permanent illegal structures that were in violation of both Henderson Municipal Code and Quail Summit Governing Documents!
THE FOLLOWING LINKS RELATE TO GHERTNER TAKING ACTION AGAINST HER FORMER NEIGHBORS. One of these  neighbors,  THE VOHRAS STATED THEY WERE
"SHOCKED THAT GHERTNER CAME AFTER THEM FOR THE COLOR OF THEIR JUNGLE GYM EVEN THOUGH GHERTNER HAD KNOCKED ON THEIR DOOR SEEKING MEDICAL ATTENTION FOR HER CHILDREN IN THE MIDDLE OF THE NIGHT!"
HOWS THAT FOR BEING NEIGHBORLY!
(please click on the following links)
           vohraHOAdocs   Meena Vohra Affidavit
 27 Pheasant Ridge Facts-Ghertner Complaint
Pam Ghertner had issues with "jungle gym colors" and "wall heights" with her neighbors but it was ok for the Hazells to look at the following pictures through their windows! 
I wonder what Gerthner would do if she had to look at these?  I have an idea!!!  Complete and total HYPOCRIT!!
 I WONDER WHAT GHERTNER WOULD DO ABOUT THESE ILLEGAL STRUCTURES THAT SHE  IGNORED FOR YEARS IF THEY WERE INCHES FROM HER PROPERTY LINE? 
 VIOLATION OF FIDUCIARY DUTIES ARE SERIOUS OFFENSES!
http://www.hoasyndrome.com/index.html
 http://www.hoacorruption.com          http://www.hoaacademy.com
http://www.lvrj.com/news/prosecutors-say-more-hoa-charges-imminent-181053081.htm
http://www.hoaleader.com/public/440.cfm
http://www.lasvegassun.com/news/2012/mar/04/hoas-necessary-evil-nevada/
http://neighborsatwar.com/
The Creepy Case Against Your Homeowners Association
Neighbors At War is a critical examination of the modern Homeowners Association movement, (HOA) and how it has robbed 62 million Americans of their civil rights as outlined in the U.S. Constitution.  Homeowners often move into these planned communities and unwittingly sign documents that control their behavior in a multitude of ways.  Failing to abide by these 'personality and private behavior' controls has cost thousands of homeowners their homes, their life savings and their peace of mind. While HOAs were theoretically created to "protect property values", there is incredible incentive for HOA board officers to "go rogue" and unnecessarily abuse fellow homeowners.
This is exactly what has happened at Quail Summit! When this happens, neighborhoods are torn apart, property values plummet and lives are ruined. Another national scandal is the amount of financial corruption of HOA board members. In Las Vegas, federal indictments of dozens of well-known public figures show what happens when HOAs go out of control.   These criminals can be stopped!
VIOLATION OF FIDUCIARY DUTIES ARE SERIOUS OFFENSES!

This is just one example of the Board using UNLICENSED CONTRACTORS which is illegal under NRS 116. The front entry gates were done by Alumacast, as you can see this looks hideous, the welds are not professional and the gate had to be painted again since it was not done professionally!
FCCMI RECOMMENDED ALUMACAST TO THE BOARD
Here is an example of former FCCMI employee & Quail Summit CAM Gary  Leobold's ludicrous and outrageous behavior towards me!
When Hazell sent a certified letter to FCCMI with concerns that his neighbors tree was blocking the light from the association street light and subsequently creating a "safety hazard" for the COMMUNITY, Leobold replied with,
"We did observe the tree in question on a recent walk-through
and did not feel it materially interfered with the operation of the
adjacent streetlight as claimed in your letter."
The tree was obviously  "Materially Interferring"with the street light!
CC&R 4.3 STATES: "NO OWNER SHALL OBSTRUCT ANY ASSOCIATION PROPERTY"
NOTICE THE THE WORD  "materially" is not included.  This is creative wording AND CREATIVE INTERPRETATION OF YOUR CC&Rs on Leobold's part! 
This is clearly indicative of  SELECTIVE ENFORCEMENT  to protect Jerry Babic who  was ironically "suspiciously elected to the Board" and is a co-conspirator in retaliatory acts towards Hazell & Chew.
VIOLATION OF FIDUCIARY DUTIES ARE SERIOUS OFFENSES!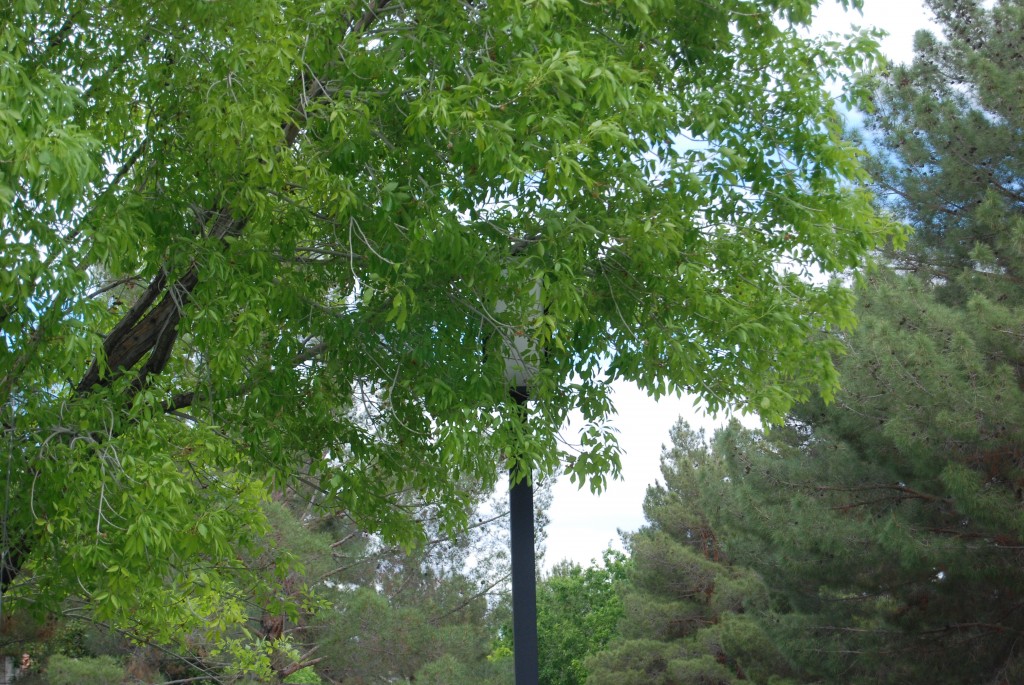 Leobold is a bold face liar with no ethics or integrity!, His bias and favortism have been documented thoroughly!  FCCMI needs to be fired!
Leobold most recently harassed Paul Hazell demanding him to produce "State license and WC dec sheet" when Hazell gave the HOA a courtesy notice informing them that there would be maintenance  being perfomed  to his roof. 
These repairs did not constitute the need for an ARC form to be filled out and there is nothing in Quail Summit's Governing Documents or NRS Statutes that call for Hazell to produce the documents Leobold illegally requested.
Blatant RETALIATION and HARASSMENT ON LEOBOLD'S PART!
COINCIDENTALLY, THIS IS NOT THE FIRST TIME FCCMI HAS BEEN ACCUSED OF RETALIATION! 
FCCMI FORCED TO PAY $10,000 FINE for RETALIATION
PLEASE SEE THE FOLLOWING LINK!
http://portal.hud.gov/hudportal/documents/huddoc?id=DOC_7510.pdf
RETALIATION FROM A BOARD MEMBER IS ILLEGAL!!
NRS 116.31183- Retaliatory action prohibited
      1.  An executive board, a member of an executive board, a community manager or an officer, employee or agent of an association shall not take, or direct or encourage another person to take, any retaliatory action against a unit's owner because the unit's owner has:
(a) Complained in good faith about any alleged violation of any provision of this chapter or the governing documents of the association;
(b) Recommended the selection or replacement of an attorney, community manager or vendor; or
(c) Requested in good faith to review the books, records or other papers of the association.
2.  In addition to any other remedy provided by law, upon a violation of this section, a unit's owner may bring a separate action to recover:
(a) Compensatory damages; and
(b) Attorney's fees and costs of bringing the separate action.
      LIFE IS TOO SHORT TO PUT UP WITH HARASSMENT & RETALIATION
Saturday August 10, 2013 Andersen was witnessed taking pictures of the Hazell residence at 11:10 am.  Why would she be taking pictures of Hazell's house?  Hazell caught her when he was pulling up to his driveway in his Ferrari.  
The fact is that Babic (a board member at that time) did not get prior ARC approval and did not inform his neighbors that his contractors were going to trespass on the Hazell residence in order to cut Babic's illegal tree.
Why was Andersen involved with Babic's tree cutting?  The Board is on record saying
"We did observe the tree in question on a recent walk-through and did not feel it materially interfered with the operation of the adjacent streetlight as claimed in your letter."
So why was Andersen Harassing Chew?
THE FOLLOWING LETTER WAS SENT CERTIFIED MAIL
 DOES THAT ROOF MATCH HER HOUSE?   A BLATANT AND PATHETIC ATTEMPT TO COVER UP A VIOLATION THAT HAS BEEN THERE FOR YEARS IN RESPONSE TO THIS WEBSITE!  
This lady serves on the Board and is ARC Chairman!!
  GOODSIT  REMOVED HER ILLEGAL SHED AND HIDEOUS PLANTERS IN JULY 2013 AFTER THIS WEBSITE WAS PUBLISHED.
WHY IS THAT?
 CAMP QUAIL SUMMIT!
GOODSIT AND ANDERSEN WRONGLY CAME AFTER HAZELL REGARDING HAZELL'S BOAT AND FALSELY ACCUSED HIM OF DOING "MAJOR REPAIRS" ON HIS BOAT WITHIN QUAIL SUMMIT!!
SELECTIVE ENFORCEMENT OF CC&RS
ANOTHER EXAMPLE OF BOARD MEMBER ABUSE AND HARASSMENT TARGETED AT HAZELL 
Terry Hulse
Hulse is on record  insulting and verbally attacking Paul Hazell.  Hazell lives in  Quail Summit and on the day of one of Hulse's many attacks AGAINST HAZELL, brought pictures and a formal letter of complaint to the board regarding his neighbors poorly maintained residence who ironically was Jerry Babic ,who also was a board member.
This incident occured on November 28, 2011 at the Hulse residence during the monthly Quail Summit Board Meeting.  In attendance were Hazell and his ex-wife, Pam Ghertner, Suzanne Moon, Sue Wirshing, Mike Meatovich (former HOA President), Terri Andersen, Kurt Faux and Gary Leobold of FCCMI.
 Hulse verbally assaulted Hazell and wrongly interrupted him during his allotted time to speak during the "homeowners forum " and BERATED  him WITH "there you go again making trouble and jabbing your jaws"  
Hulse then turned off Hazell's phone after Hazell left his phone at the Hulse residence . Hulse later stated to Hazell who was smartly standing on the sidewalk to avoid any further confrontation "you can come  to the front door and get your phone, your certainly big enough." 
This confrontational and inappropriate adolescent behavior is unacceptable for any rational adult especially a Quail Summit  Director who has a "Fiduciary Duty" to Hazell and all the other homeowners!
RETALIATION IS ALSO ILLEGAL!
 Hazell presented the following letter to the board  on November 28, 2011 
The Following Pictures were Given to the Board on November 28, 2011 Regarding Babic's inadequate yard per the "governing documents"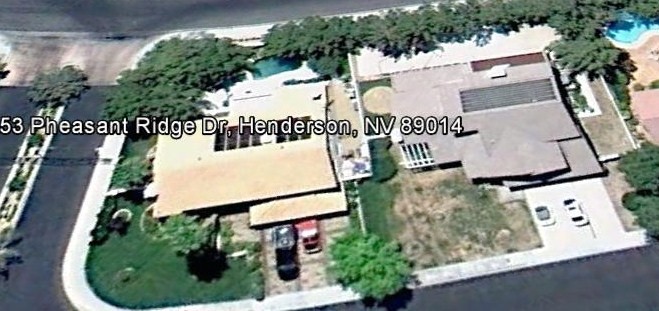 Satellite View of Babic's lawn,Compare and Contrast to Hazell Residence  
The following email was sent to FCCMI & HOA Board of Directors August 2012
NO RESPONSE FROM EITHER OF THEM!
Former Quail Summit Board Member JERRY BABIC-
Ever since Babic moved into Quail Summit Babic was ALLOWED TO VIOLATE  numerous Quail Summit CC&Rs and Rules & Regulations. 
Babic has verbally assaulted, threatened and performed lewd acts towards me. These acts have been reported to FCCMI AND THE HENDERSON PD!
On one such attack on Nov 2, 2012 at 11:39 am, Babic parked his boat in front of my residence and proceeded to verbally assault me after I questioned Babic  about him constantly breaking the CC&Rs. Babic engaged in an offensive and  lewd act by pulling his shorts down in front of me and exposing himself !

Here is a pic capturing the incident,
(notice Babic's door is open he is about to assault his neighbor)
 Babic's verbal attack to Hazell included,  "I can live the way I want to mother fucker, neither you or anyone else can do anything about it! What are you going to do about it asshole, I will kick your ass right now!"
Babic then proceeded to trespass on Hazell's property in a feeble attempt to provoke Hazell into a physical confrontation. Hazell was in the process of re-finishing his front entry doors when this took place and the whole event was captured on his home surveillance system.  Hazell immediately called the Henderson PD to report this abusive, lewd, offensive, outrageous  and illegal behavior!  Babic the coward ran away to avoid the Police and shouted at Hazell, "you've been played."
Babic's late nite arrivals after midnight  on his obnoxiously loud chopper is indicative of the lack of respect he has for the Quail Summit community!
Sunday February 3, 2012 06:58 Babic woke his neighbors up once again revving his ridiculous AND obnoxiously loud CHOPPER FOR SEVERAL MINUTES!
HARASSMENT PURE AND SIMPLE! & CLEARLY A PUBLIC NUISANCE TO THE COMMUNITY!!!

on Thursday May 16, 20113 AT 5:31 PM Jerry Babic gave Paul Hazell an obscene and vulgar gesture while exiting the community on his public nuisance chopper.  This is another egregious example of Babic's complete and utter disrespect he had for his neighbors!
DO YOU THINK THIS CONDUCT TOWARDS HAZELL IS ACCEPTABLE FOR A QUAIL SUMMIT BOARD MEMBER? 
This video was taking on or about 730 am on a Sunday!  The Henderson Police agreed that this is clearly a "public nuisance and exceeded their noise ordinances"  Babic's neighbor really appreciated being woken up to "gangster rap"  after a long 16 hour work day!  Thank You Babic! Harassment Pure & Simple!
IS THIS THE KIND OF PERSON YOU WANT TO LIVE NEXT TO?
IS THIS THE KIND OF PERSON YOU WANT RUNNING YOUR HOA?
 Board Member Hypocrosy _Pics of their own Violations!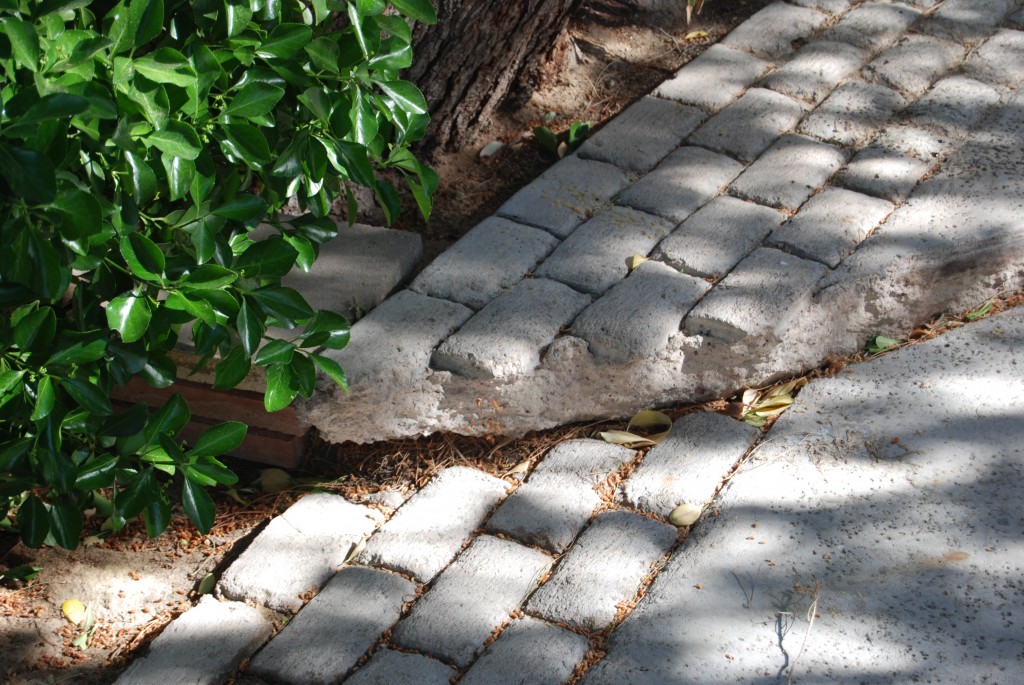 This was the Andersen driveWay, Hardly conforming to the "ARCHITECTURAL STANDARDS" set forth in the "governing documents"
Yet Andersen on one of her "walk throughs with FCCMI" cited  homeowner MARTINELLI for "having a gap between his wall and gate" AND THEN LET VERONICA CHEW TAKE THE BLAME!
 CLEARLY A DOUBLE STANDARD AND SELECTIVE ENFORCEMENT!
ANDERSEN HAD BEEN ON YOUR BOARD FOR NEARLY FIVE YEARS AND BOTH HER AND FCCMI WERE PUT ON NOTICE YEARS BEFORE ANDERSEN HAD HER DRIVEWAY FIXED TO CONFORM TO THE GOVERNING DOCUMENTS!
THIS STILL DOES NOT ERASE THE LONG HISTORY OF SELECTIVE ENFORCEMENT!
ANDERSEN IN JULY 2013 HAD THIS ILLEGAL BRIDGE TO HER NEIGHBORS HOUSE REMOVED AFTER IT WAS DOCUMENTED ON THIS WEBSITE!
Why is that?
 —– WARNING: —–If you value your rights,
THINK BEFORE BUYING A HOMEWITH WITH AN HOA
The HOA industry continues working to remove your rights.
Privacy
The owner of this blog does not share personal information with third-parties nor does the owner store information is collected about your visit for use other than to analyze content performance through the use of cookies, which you can turn off at anytime by modifying your Internet browser's settings. The owner is not responsible for the republishing of the content found on this blog on other Web sites or media without permission.
Blog Comments
The owner of this blog reserves the right to edit or delete any comments submitted to this blog without notice due to;
1. Comments deemed to be spam or questionable spam
2. Comments including profanity
3. Comments containing language or concepts that could be deemed offensive
4. Comments that attack a person individually
Terms and Conditions
All content provided on this blog is for informational purposes only. The owner of this blog makes no representations as to the accuracy or completeness of any information on this site or found by following any link on this site. The owner will not be liable for any errors or omissions in this information nor for the availability of this information. The owner will not be liable for any losses, injuries, or damages from the display or use of this information.
This policy is subject to change at anytime.
THOSE  WHO LIVE IN GLASS HOUSES SHOULD NOT THROW STONES!